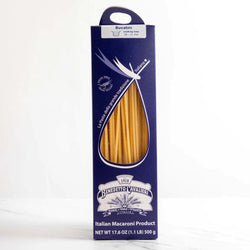 Benedetto Cavalieri Bucatini
Discover the timeless delight of Benedetto Cavalieri's Bucatini pasta, crafted with love since 1800. Made from carefully chosen hard durum wheat or semolina, it boasts higher protein content and a distinct texture. Slow-dried in antique ovens, this pasta captivates with its unique qualities. Its rough surface, achieved through bronze dies, ensures sauces cling perfectly. Enjoy its natural nutty flavor with fish, vegetables, or meat dishes. Prepare for an unforgettable gastronomic journey that will leave you longing for more.
Long hollow tubes, classic in bucatini all' Amatriciana with guanciale, tomato, chili, and Pecorino Romano. Cooking time: 7-8 minutes.

THE CAVALIERI FAMILY BEGAN FARMING WHEAT IN SELECT FIELDS IN APULIA IN THE EARLY 1800'S. THEY WERE MILLING THE GRAIN BY THE 1870'S. Benedetto founded the pasta factory in 1918, dedicated to producing first-choice, artisan pasta using the best grain, innovative processes, and up-to-date machinery adhering to the time-honored "DELICATE METHOD." He introduced a method for drying the pasta using water heaters and fans rather than drying it on street racks. His dedication to quality has been passed down through five generations.

Since 2005, Pastificio Benedetto Cavalieri has been appointed Learning Centre of Slow Food University of Gastronomic Sciences of Pollenzo (Piemonte). Students from five continents attend the thematic one-week seminars on pasta-making.
1.1 Lbs.