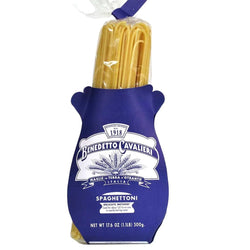 Benedetto Cavalieri Spaghettoni
THE CAVALIERI FAMILY BEGAN FARMING WHEAT IN SELECT FIELDS IN APULIA IN THE EARLY 1800'S. THEY WERE MILLING THE GRAIN BY THE 1870'S. Benedetto founded the pasta factory in 1918, dedicated to producing first-choice, artisan pasta using the best grain, innovative processes, and up-to-date machinery adhering to the time-honored "DELICATE METHOD." He introduced a method for drying the pasta using water heaters and fans rather than on street racks. His dedication to quality has been passed down through five generations.
Since 2005, Pastificio Benedetto Cavalieri has been appointed Learning Centre of Slow Food University of Gastronomic Sciences of Pollenzo (Piemonte). Students from five continents attend the thematic one-week seminars on pasta-making.

Derived from the Italian word "spago," meaning thread or string, Spaghettoni pasta embraces its name by presenting an elongated and substantial form. This variation resembles the beloved classic spaghetti but boasts a larger size, adding a delightful twist to your culinary repertoire. To savor its essence, we highly recommend pairing this great pasta with rich and indulgent Cacio e Pepe sauce or tantalizingly tangy Amatriciana sauce. Prepare yourself for a memorable dining experience that beautifully harmonizes the robust flavors of these exquisite sauces with the satisfying texture of Spaghettone.
This is the largest cut with a fantastic hearty chew. Long simmered ragùs complement this substantial pasta. Cooking time: 16-17 minutes
1.1 Lbs.