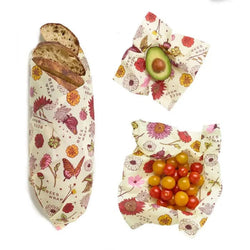 Meadow Magic - Assorted 3 Pack, Plant-Based Wrap
A plant-based alternative to plastic wrap.
It is made from familiar all-natural ingredients that provide properties for sealing a bowl and tightly wrapping veggies, fruits, and bread to preserve freshness. Plant-based Bee's Wrap contains no beeswax, and just like our other food wraps, it is reusable, washable, and compostable.
It is made with high-quality ingredients sourced from nature, including candelilla wax, soy wax, organic plant oils, and tree resin.

Includes three wraps: 
7"x 8"
10"x 11"
13"x 14"
Made in the United States of America