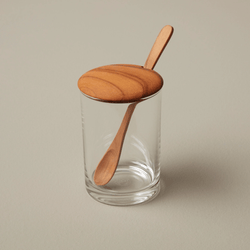 Spice Glass Cellar
Combining durability and charm, the Glass Mini Cellar is a must-have addition. Keep your spices within easy reach while maintaining a stylish kitchen aesthetic. Our teak products are meticulously hand-carved from a single piece of wood and contribute to planting new trees with each harvest, supporting sustainable practices.
Specifications:
Capacity: 6 oz.

Measurements: 2 oz. 2.5" diameter x 3.75" height, 5.25" Spoon

Measurements: 6 oz. 2.5" dia x 3.75", 5.25" Spoon

Handmade with care in Thailand, showcasing exceptional craftsmanship

Ethically crafted in small, conscientious batches, reflecting our values
Care Guidelines: We recommend hand washing the Glass Mini Cellar with mild soap to preserve its unique finish. Please avoid using citrus-based detergents or abrasives, which may compromise its distinct allure.