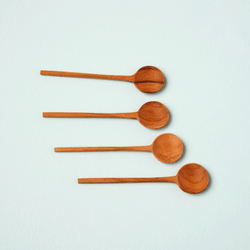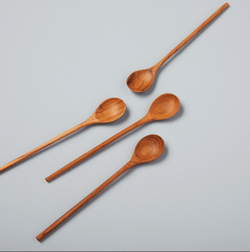 Teak Thin Spoons - Set of Four
Let go of the notion of your grandmother's teak patio furniture as we introduce a fresh interpretation of this timeless classic. This reinvented serving set effortlessly brings natural beauty to your table. Meticulously crafted by skilled artisans, each piece showcases the exquisite and distinctive grain of sustainably sourced teak wood, ensuring its longevity.
Specifications:
Dimensions: 0.5" x 3.5"

Dimensions: 

0.5" x 5"

Handcrafted with precision from teak wood and metal in India, showcasing exceptional craftsmanship

Sourced sustainably, with each purchase contributing to the planting of new trees.

Made in Thailand, it represents a collaboration of skilled artisans worldwide.
Care Guideline: We recommend hand washing the set with mild soap to preserve its unique finish. Please avoid using citrus-based detergents or abrasives, as they may compromise the integrity of the exquisite finish.