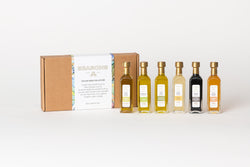 Italian Herb Collection
Our Italian Herb Collection is a great way to try out a selection of versatile, Mediterranean-inspired extra virgin olive oils and vinegars. Each item in this box is a tried and true pantry staple, designed to enliven everything from pasta to grilled meats to vinaigrettes with a nuanced kick. A fabulous gift for anyone getting into home cooking or looking to experiment with new flavors.
This eco-friendly box contains a 60 ml. bottle of:
Tuscan Herb Infused Olive Oil (2 oz.)
Basil Infused Olive Oil (2 oz.)
Milanese Gremolata Infused Olive Oil (2 oz.)
Sicilian Lemon infused White Balsamic (2 oz.)
18 years Traditional Dark Balsamic (2 oz.)
Piedmont Honey White Balsamic Honey Vinegar (2 oz.)
A fine paper sleeve with collection contents wraps the box.
Love love love this product!
Truly the best olive oil and vinegar I have ever had! I gift it to all my friends and my daughters and to myself. I order online and delivery is always prompt! I recommend them to everyone!
Gift
My mother wanted to send a birthday gift to her niece. She thought of olive oil and vinegars. We called to order over the phone and had a wonderful customer experience. Thank you!