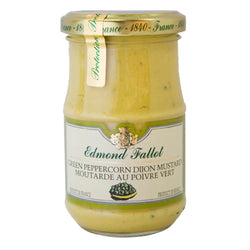 Green Peppercorn Mustard Fallot
An independent, family-owned company since 1840, The Fallot family enjoys a reputation worldwide for the exceptional quality of their products, mainly their range of delicious homemade mustards. The factory, "La Moutarderie Fallot," located in Beaune near Dijon, has been outfitted with state-of-the-art production facilities. However, the company remains committed to its traditional manufacturing processes to retain the flavor and quality they are famous for. The mustard seeds are still stone ground by expert artisan mustard makers. This traditional process preserves the pure flavor, a hallmark of all Fallot mustard varieties. Marc Dasarmanien, the grandson of founder Edmond Fallot, heads this last independent mustard mill in the Burgundy region of France. He is proud to continue the uncompromising production of mustard by selecting and stone-grinding only the highest quality mustard seeds and artfully blending the ground seeds with the highest quality ingredients such as blackcurrants, green peppercorns, green tarragon and so much more! The result is a range of robust and tantalizingly tasty mustard varieties unavailable in any other Dijon-style mustard. The tart, piquant taste of any mustard from the Edmond Fallot range adds depth of flavor to marinades, sauces, and salad dressings and can be paired beautifully with fish, poultry, and meats. It also adds a nice twist when added to traditional French vinaigrette.
Crafted from a harmonious blend of black and brown mustard seeds and infused with green peppercorn, this Edmond Fallot mustard delivers exceptional flavors and textures. Its intricate fusion of mustard seeds and green peppercorn imbues it with a distinctively luxurious taste that pairs well with an array of dishes. Use it as a delectable dip for vegetables, a steak sandwich or to create an exquisite potato salad. Alternatively, whip up an indulgent peppercorn mustard cream sauce to elevate your chicken or fish dishes to new heights.