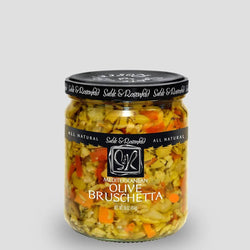 Mediterranean Bruschetta
Discover Flavorful Harmony: Olive & Vegetable Medley in Olive Oil
Elevate your culinary creations with our Olive and vegetable Medley in Olive Oil—a symphony of flavors and textures that promises to delight your taste buds. Crafted with care, this medley combines the rich essence of green olives, carrots, cauliflower, red bell peppers, celery, and capers, all generously soaked in premium olive oil. It's the perfect complement to elevate various dishes and add a burst of Mediterranean-inspired goodness.
Versatile Spread: Elevate your sandwiches, pizzas, or baguettes by adding a generous dollop of this flavorful medley as a spread. The harmonious blend of ingredients will transform your meals into gourmet experiences.
 Perfect Pairing: Give your grilled fish, pasta, omelets, potato salad, or deviled eggs a delicious kick with this delectable medley. Its versatility knows no bounds, making it a go-to ingredient in your kitchen.
Natural Goodness: Made with all-natural ingredients, this medley ensures that you're savoring pure, unadulterated flavors. It's a testament to our commitment to quality and authenticity.
Gluten-Free: We understand the importance of dietary preferences. Rest assured, our Olive & Vegetable Medley is gluten-free, making it a delightful choice for various diets.
Non-GMO Certified: We take pride in using non-GMO ingredients, prioritizing your well-being and the purity of our product.
Ingredients That Shine:
Green Olives:

 A cornerstone of Mediterranean cuisine, imparting a rich, briny flavor.

Olive Oil:

 Our medley is bathed in premium olive oil, infusing every bite with a luscious, Mediterranean essence.

Carrots, Cauliflower, Red Bell Peppers, Celery:

 A medley of colorful vegetables that provide a satisfying crunch and vibrant flavors.

Capers:

 Small in size but mighty in flavor, capers add a zesty kick.

Garlic:

 Enhancing the medley with aromatic depth and complexity.

Spices & Salt:

 A carefully curated blend of spices and salt to elevate the overall taste profile.
Experience the Mediterranean-inspired magic of our Olive and vegetable Medley in Olive Oil. Whether you're a culinary enthusiast or a home cook looking to add gourmet flair to your dishes, this versatile medley is your secret ingredient. Order your jar today; It's time to elevate your dining experience with the exquisite taste of our Olive and vegetable Medley.
16 oz.