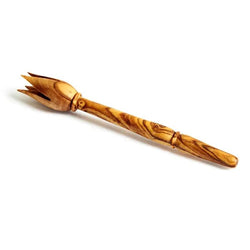 Olive Wood Olive Picker
The Olive Picker is a great appetizer fork that allows you to easily pick up olives and other snacks such as cheese, tomatoes, and pickles.
Olive wood is a hardwood making it very dense and durable for everyday use. Olive wood is nonporous so no germs or odors are retained. All products are made from a single piece of wood—they are seamless and no two pieces are alike.
DIMENSIONS: 6" L