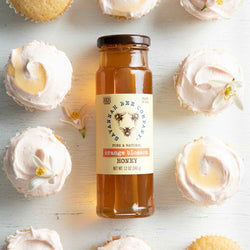 Orange Blossom Honey
This Orange Blossom Honey is a delicious and versatile sweetener that brings the bright and refreshing flavor of freshly picked citrus to your meals and beverages. With a tantalizing aroma and a rich golden color, this honey is a delightful addition to your kitchen pantry.
Bees work hard to produce this sweet nectar, traveling from flower to flower in the vast orange groves of central Florida. The result is a honey that is infused with the essence of oranges, giving it a unique and delightful flavor profile that is perfect for baking and cooking.
In addition to its delicious taste, our Orange Blossom Honey is also an essential ingredient in the orange groves themselves. The bees that produce this honey are vital to the pollination of the orange trees, ensuring a bountiful harvest of fresh, juicy oranges later in the season.
Whether you're using it to sweeten your morning tea, drizzling it over a fresh fruit salad, or incorporating it into your favorite baked goods, our Orange Blossom Honey is a versatile and delicious addition to any kitchen. And with its origins in the beautiful orange groves of central Florida, it's a taste of sunshine in every jar.
flavor profile
Bright, incredibly sweet and finishes with subtle citrus note