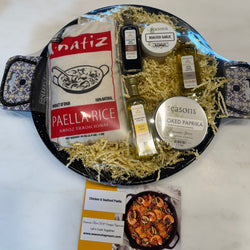 Paella kit
Introducing the Ultimate Paella Set: Your Passport to Authentic Spanish Cuisine!
This Paella Set is thoughtfully curated to bring the vibrant flavors of Spain right to your kitchen. Crafted for both beginners and seasoned chefs, this collection of essential ingredients and tools will help you create a mouthwatering paella that captures the essence of Mediterranean cuisine. Whether hosting a festive gathering or seeking to savor an exquisite homemade meal, this Paella Set is your ticket to an unforgettable experience.
What's Included:
Paella Pan:

 Crafted with authentic Spanish craftsmanship, our Paella Pan is designed to deliver superior heat distribution for the perfect socarrat – that coveted layer of crispy rice at the bottom. This Paella pan ensures enough paella for four people or six if you serve it Tapas style.

Premium Paella Rice:

 The heart of any paella, our carefully selected Bomba rice absorbs flavors effortlessly and maintains its shape throughout the cooking process. This short-grain rice is the secret to achieving that irresistible, slightly nutty texture that paella aficionados adore.

Olive Oil and Vinegar:

 Enhance the depth of your paella's flavor with our 60 ml bottles of extra-virgin olive oil and vinegar to use with the recipe included. These essentials will add a touch of Mediterranean magic to your dish.

Paprika:

 A fundamental spice in Spanish cuisine, our aromatic paprika is the key to imparting that rich, smoky flavor to your paella. This vibrant spice will elevate your dish from ordinary to extraordinary.

Authentic Recipe:

 Our comprehensive paella recipe is a treasure trove of culinary wisdom. From sautéing the sofrito to selecting the perfect protein and achieving the ultimate presentation, it's your step-by-step guide to mastering the art of paella.
Embark on a gastronomic journey with our Paella Set and savor the flavors of Spain in the comfort of your own home. Whether a novice or a seasoned chef, this all-inclusive kit will transform your kitchen into a paella paradise. Grab your set today and create unforgettable moments with friends and family over a sumptuous paella feast. ¡Buen provecho!