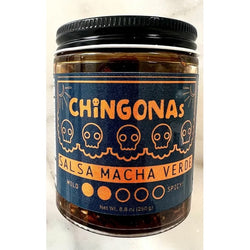 Salsa Macha Verde
Discover Salsa Macha: A Flavor-Packed Journey from Veracruz to Your Table
Salsa Macha, a culinary treasure born in the heart of Veracruz, Mexico, is now yours to savor. Crafted with a harmonious blend of dried chiles, garlic, nuts, and seeds, this exquisite oil-based chili crunch sauce tastes like no other. Dive into a world of bold flavors and tantalizing textures that elevate your dishes to culinary excellence.
Naturally, Vegan and Gluten-Free: Salsa Macha is thoughtfully created to cater to various dietary preferences, making it a delightful addition to any pantry.
Versatile and Irresistible: This versatile condiment isn't just for traditional Mexican fare. While it pairs wonderfully with tacos, tostadas, and burritos, it also adds a hint of excitement to almost any dish. Infuse your culinary creations with a subtle kick of heat, unparalleled umami, and a delightful crunch.
Salsa Macha brings the vibrant flavors of Veracruz to your kitchen.
Ingredients that Make Magic:
Rice Bran Oil:

 The foundation of our Salsa Macha, providing a silky and luscious texture.

Dried Chilis:

 A blend of dried chiles for a balanced and fiery flavor profile.

Pistachio & Pepitas:

 Nuts and seeds introduce a delightful crunch and nutty undertones.

Salt:

 Enhancing the savory notes that make every bite unforgettable.

Cilantro, Chives, Tarragon:

 Fresh herbs that infuse brightness and freshness.

Onion & Garlic:

 Adding aromatic depth and complexity to the sauce.

Mushroom:

 A secret ingredient that intensifies umami and richness.

Sugar:

 Providing a subtle sweetness to balance the heat.

Nori & Sesame:

 A unique twist that brings a hint of the sea and earthy richness.

Black Pepper and cumin:

 A perfectly balanced blend of spices to awaken your palate.

Citric Acid:

 A touch of tanginess that elevates the overall flavor profile.
Experience the culinary marvel of Salsa Macha and elevate your dishes to new heights. Whether you're an avid fan of Mexican cuisine or a curious explorer of global flavors, Salsa Macha is your passport to a world of taste sensations. Add a jar to your cart today and embark on a journey of bold, unforgettable flavors.